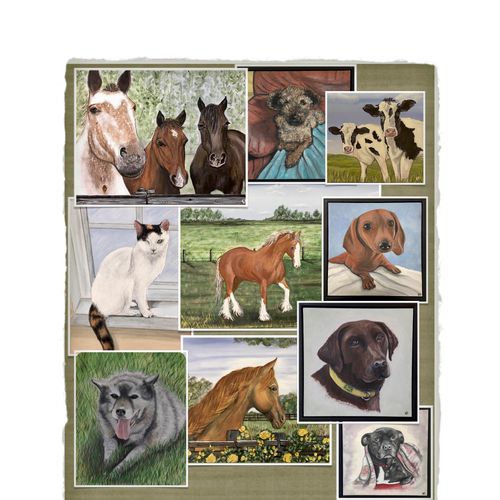 Pet Portraits
I am always so honored to be asked to paint a special portrait of your beloved family member. A pet portrait is a truly unique and memorable gift and it is very important to me that I capture the character, personality and soul of your pet.
Let me introduce you to some of my special requests thus far. [Left photo- from top to bottom ] The Girls, Ryley, Sassy Cows, Rue, Claude, Otis, Run, Lucy, Tucker & Marley.
I create these portraits with acrylic on stretched or flat canvas ... or another platform if you prefer. I work directly from photos so customers can choose the photo that best reflects the pose, character or antics of their friend. 
Pet Portrait prices are determined by the size, detail and time involved, often starting at $125.  Please click on the button below to send your requests, photos, & questions. I will be happy to provide you with some answers and a quote that includes shipping & timeline.
Eli